The Custom Experience is What Consumers Expect
Posted on

admin

on

February 19, 2019
Design Your Brand to Meet Customer Taste
A new way to surprise customers with customization
Customization in small batches can be hard to provide for a great price.
Find out how RAK Stözle is making it easy to customize glassware.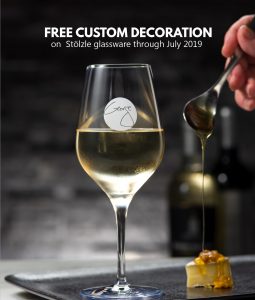 It's Called Exceeding Expectations – (Through July 2019)
According to a recent article by NAFEM staff, 72 percent of consumers expect product customization. As a concept this is a natural extension of providing a story behind the menu items, focusing on farm-to-table ingredients, and how the experience relates to consumers lifestyles. Beyond cuisine, tabletop manufacturing can provide this level of service with customization of specialty items, such as fine glassware.
How can you do this in your market?
RAK Stölzle is offering free factory decorating (deco or pour line) to their glasses through July 2019. 
Contact your authorized Jones Marketing Company or RAK/Stolzle distributor for pricing.
______________________________________
ADDITIONAL DETAILS
Offered through July 2019
Vector artwork must be provided. If not available it can be created at an additional cost
A fired sample can be ordered at an additional charge
Lead time is approximately 4-6 weeks from approval of artwork and purchase order placed
Freight chargers are not included
Custom products are non-returnable