Your Food is Only as Sharp as your Knife.
Posted on

admin

on

January 30, 2018
It's a New Year. Let's be Sharp!
Featuring Friedr. Dick Electric Sharpening Tools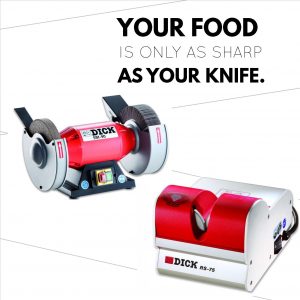 Friedr. Dick Electric Sharpeners
Friedr. Dick is a leader in manufacturing knives, tools and grinding machines. They offers specific grinding solutions, and use expertise grinding technology.
RS-75 Grinding and Honing machine: It is perfect for all catering outlets and shops. Effective sharpening with minimal knife consumption. In addition it's fast, safe, efficient, and easy to operate. More information and dimensions click here
SM-90 Lamellar Grinding machine: It easy, fast for both sharpening and polishing. There is a large lamellar grinding wheel that measures 200 x 50 mm. It has a high grinding performance and efficient air cooling because of the interlamellar distance. In addition it has a convex grind and easy handling. Click here for specifics.
This sharpener belongs in your commercial kitchen.